Web Design: What's Trending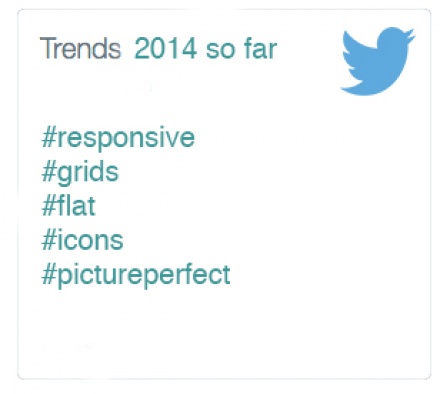 As we begin to close in on the third month of the year (where is the time going?) we thought we'd take a look at what's trending in the world of Web Design.
Responsive layouts are not going anywhere and for a good reason. The fluid nature of the design allows for sites to build up like bricks as they are viewed in different environments (that's jargon for 'devices') meaning complete design uniformity across the board. Sites such as ICE Europe are an excellent example of how this works; check it out on your PC, phone & tablet to get the full effect.
Following styles used by Social Networking sites is always a sure way to stay on trend when it comes to digital. Pinterest have used their Grid Style from conception in order to create pin boards of awe-inspiring images, as you can see here.
The enhancement in User Experience that comes from this style allows for visitors to be able to quickly identify the relevant information to them…and anything that enhances User Experience is a bonus in our eyes!
The doors are finally open for our designers to play around with fonts online and create something that stands out and expresses your brand right down to the typography! Exciting? It really is – this is one of the last areas that castrated designers' flair…now we can free the creative!
Flat is the new skinny when it comes to web design. Bevelled buttons used to be all the rage, until Windows did to Flat what Hipsters did to beards – and began a new super-craze coming to a website near you soon. Here's one of our current favourites: www.fitbit.com
Very likely a knock-on effect from the rise in mobile browsing, as icons are easy for big thumbs to use on a small screen. Has the added benefit of helping to convey messages as concisely as possible, without having to trawl through lots of text.
We particularly like the use of icons to represent menu choices; meaning a smaller navigation which is not only mobile savvy but feels modern.
As we all know, trends tend to come and go…and come again. Our favourite return of late is personalised imagery: for far too long businesses have settled for stock images, which can look over-used and not reflective of company ethos. Now, great aesthetics are the trend!
With the increase of high end displays, both on desks and in hands, we can really utilize these images by creating large-scale backgrounds that truly have something to say. We have recently been working on several photography projects with our clients to ensure just such an effect – at the same time ensuring that our clients' brands are also visible within the image to continue that drip drip marketing effect!
---